Consulting Centerless Technology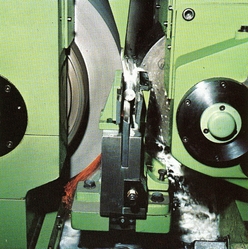 Centerless cylindrical grinding is one of the few machining processes in which the workpiece is not firmly clamped during processing. This makes the process extremely difficult. But that's not all: The surface to be machined is also used to drive the workpiece during machining.
On the other hand, centerless grinding is an extremely economical process and many rotationally symmetrical parts cannot be finished otherwise.
These facts make this procedure special. Special measures are required on machine setting, dressing accuracy, dressing tools, selection of grinding and regulating wheel, the choice of the correct workpiece height above the center, machine rigidity, selection of workpiece blade, guide jaws, loading/unloading, etc..
The mutual influence of all these factors, positive and negative, often makes troubleshooting a coincidence game, in which it is most important to use the correct basic settings for machine and tools.
We offer the following services in the field of centerless grinding:
Assistance with grinding problems of all kinds
Introduction of centerless grinding in your production
Help with the calculation of new parts
Assistance with the selection of required tooling
Employee training
Support when buying a used machine
Commissioning
Assistance with the establishment of new production sites
Use our many years of experience in a wide variety of grinding tasks!