Machine Inspections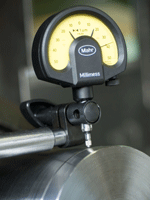 Every technical device should receive an inspection from time to time to determine whether it still meets the requirements and whether components are worn and need to be replaced. In the case of motor vehicles, in many countries such an inspection is regulated by law.
In the case of machine tools, however, checks are often neglected, mostly due to time pressure in the daily production process, a lack of specialist knowledge or a lack of management guidelines.
We all know the consequences: The machine will continue to work and improvise until quality deficiencies and inefficiency finally arise and at the end some component ceases to function. The machine fails and stands still for days or weeks.
Failures can be prevented by timely machine inspections, workpiece quality remains constant and worn tools are recognized and ordered ahead of time.

On request, we can conduct an inspection cleaning in which all important machine components such as the dressing units, grinding support, workpiece support and swivel device are partially disassembled, cleaned and lubricated. Smaller repairs can also be carried out.
Our professional maintenance and machine check includes 70 test points. We examine:
Grinding and regulating wheel dressers including dressing tools
Workpiece support
Grinding support and components
Grinding and regulating wheel spindle
Hydraulic and pneumatic components
Coolant system
Machine operability
Electrics
Prevent machine defects and increase your productivity!